Events
Continue your journey with Rhonda Allison products & education. We have some great events which will inspire & inform you.
See below to learn more about IllumiColour:
Discover our Healthy Mineral Finishers and your perfect Illumination Technique at these Rhonda Allison Events!
IECSC Las Vegas



DETAILS:
EXHIBIT HALL HOURS
Saturday, June 23: 11:00am-6:00pm
Sunday, June 24: 10:00am-6:00pm
Monday, June 25: 10:00am-4:00pm
Stop by our booth # 1552
IECSC Las Vegas is the largest spa conference and exposition in the U.S. With a leading conference program and dynamic tradeshow floor, you will have the opportunity to purchase Rhonda Allison products at deep discounts, experience our latest formulations and learn the newest IllumiColour techniques. And don't forget to attend our exciting classes!!
GAME-CHANGER INGREDIENTS REVEALED!
Saturday, June 23 // 3:30 – 5:00 pm // Room #N206
Learn about two powerful, well researched ingredients that will transform every skin that walks into your business! Every aesthetician needs to be incorporating these sophisticated and powerful ingredients for aging, acne, pigmentation and of course sensitive/rosacea skins. Learn how they impact the dermal layer of the skin, stimulate cellular turnover without over-exfoliating, provide lightening properties and anti-bacterial support. Our formulations with these two phenomenal ingredients take skins even further – we call it lifestyle, game-changer skin care!
INCORPORATING ACIDS TO CLEAR ACNE
Sunday, June 24 // 1:00 – 2:30 pm // Room #N206
Discover how acids can impact an acne skin and begin to understand all the choices available and how they each impact the cell differently. We will discuss advanced enzymes, AHA's, BHA's, TCA's, Flower Acids and more! Learn how to incorporate these acids into corrective facials and peels to reduce bacteria, cellular build-up, inflammation and acne-scarring. Give your acne-prone clients the results they want from the rejuvenation experts!
LOCATION:
Las Vegas Convention Center - Central Hall
3150 Paradise Road
Las Vegas, NV 89109
Click here to Register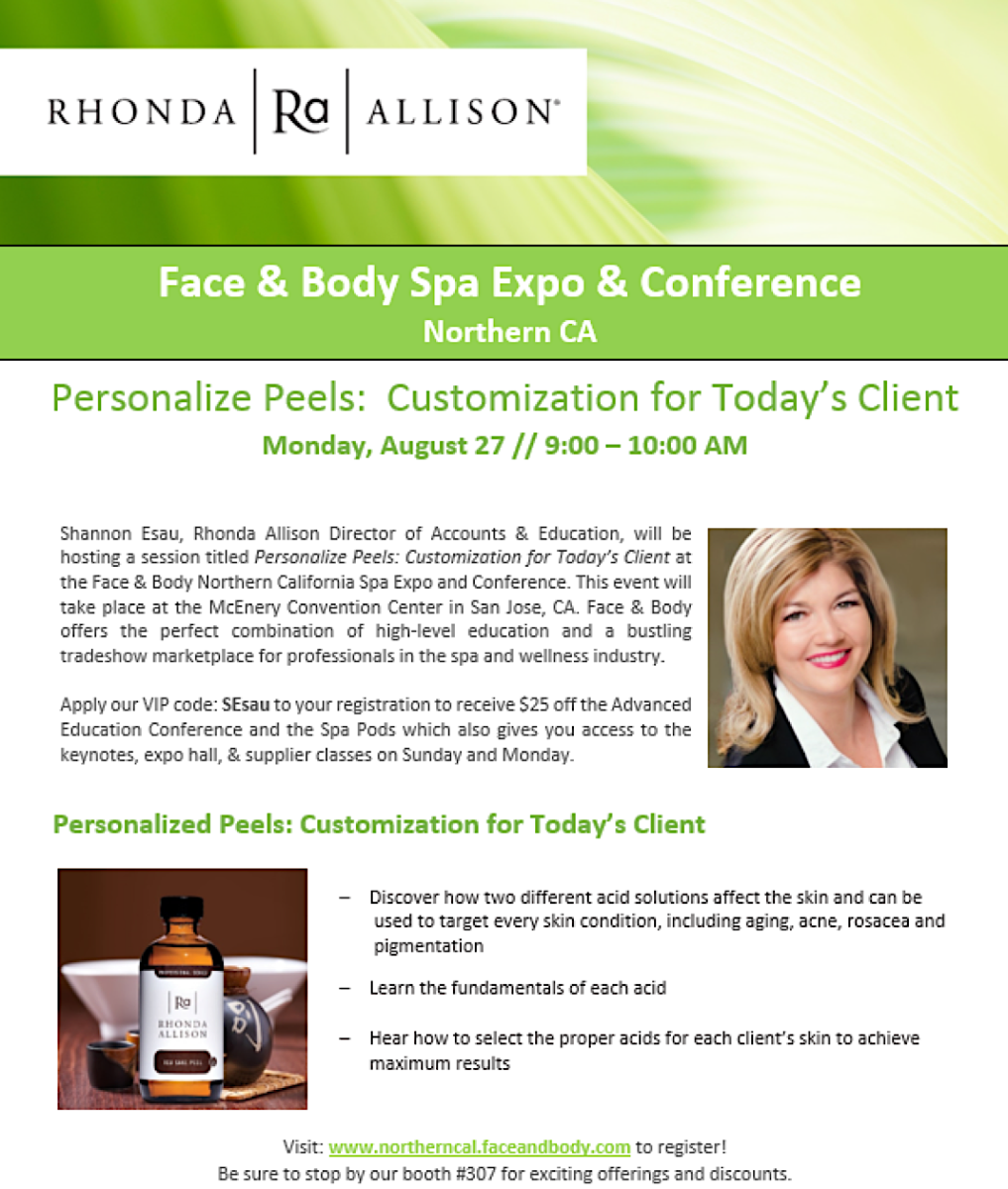 SAVE THE DATE: October 7th, 2018
To show our appreciation for all the years of support of Rhonda Allison, we've created an RA Expose!
• RA Showcase – Experience and Purchase
• Live Demonstrations – Facials and Peels
• IllumiColour Matching – Customized Finishers
• Educational Workshops – Science and Q&A
• Consult with an Educator – One-on-One Support
Register Today, Space is Limited!
$25 Registration Fee - will be applied to product orders placed at RA Showcase.
Bring a Licensed Professional, who is not already af liated with RA, and receive a Special Gift!
Cancellation Notice
Cancelling reservations after September 4th, 2018 will result in being charged the $25 Registration Fee. Please note that if you do not attend the RA Expose, and are charged the Regis- tration Fee, this may not be applied towards a product order.
When: Sunday, October 7th, 2018 Time: 12PM - 6 PM
Where: Westin Edina Galleria RSVP: info@rhondaallison.com
Click Here to Register.