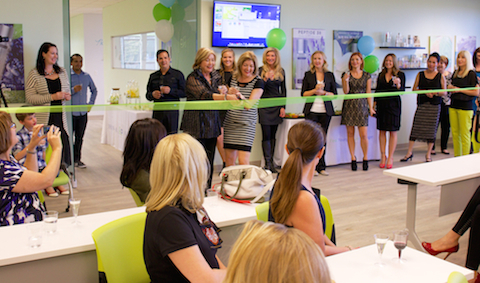 Celebrating Education In A Grand Way
As many of you may know, we just celebrated the opening of our new Education and Training Center last week in beautiful Golden, CO. It was a fabulous day that really encapsulated one of our core values as a company – providing skin care professionals access to ongoing, advanced education.
This day was particularly special as we celebrated all of our brilliant educators and the intrepid skin care professionals throughout the country who continually seek out ways to perfect their craft. It also marked the launch of our new "90-Day Live" series in which we will be going in depth on specific skin types – acne, rosacea, aging and hyperpigmentation.
Continued education has been a cornerstone of our company from the beginning, but this new center will allow us to host a continuum of courses that will be live streamed, which will enable global interactive learning and 24-hour access to archived training courses.
This new center was a longtime in the making, and we hope you will take advantage of all it has to offer!
Here's what some of our educators and attendees had to say about it:
"Having an education and training center available in this industry is an invaluable resource to the aesthetic professional. Not only does it offer state-of-the-art technology for live online training and webinars, it provides a setting for on-going demonstrations with extremely knowledgeable, seasoned aestheticians, even Rhonda Allison herself. It's a place to observe, learn, grow, and be connected with others in your industry. The fact that the center is nestled in the middle of the incredibly beautiful and majestic Rocky Mountains………PRICELESS." ~Debbie Avrin
"The new RA training center in Colorado gives us a dedicated facility to provide the latest education on our products and treatments. We have cutting-edge technology available to broadcast webinars that can be watched live or saved for later viewing, that can be watched at your leisure in the privacy of your business or home. This means another avenue to advance professional skills within the industry. Rhonda Allison continues to be on the cusp of education and technology." ~Ann Duke
"The Rhonda Allison Education and Training Center provides an amazing opportunity for
skin care professionals to participate in stellar continued education classes while expanding their network opportunities. It's a state-of-the-art facility that offers its visitors an unparalleled experience of professionalism." ~Liz Rodriguez
"As a skin care professional, education is one of the most important tools you have. The more you know the more you can offer to your clients helping them with their skin care needs. With the new education center in Colorado we can now offer even more education to skin care professionals allowing them access to the latest and greatest education in the new training center or via the internet." ~Amanda Edwards
"The Colorado education center is a beautiful milestone to mark who we are, where we came from and where we're going." ~A.J. Lemmons
"It means we now have a home for RA education where aestheticians can grow, learn skills in treatments, and it completes our program of webinars, live classes and computer trainings as a support to higher learning in the field of aesthetics!" ~ Louisa Alten
"The education center provides the opportunity for skin care professionals to expand their education, while also providing a fun environment to network with other professionals." ~ Aubree Carter